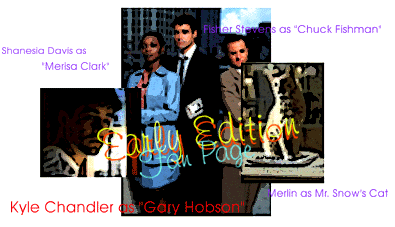 Welcome to Fontaine's "Early Edition" Fan Page--this is a page dedicated to the tv show, "Early Edition" (duh), now in its (WOOHOO!) third season. "Early Edition" airs Saturday nights on CBS--it is a great tv show and it deserves more attention.
"Early Edition" tells the story of Gary Hobson (Kyle Chandler), a Chicago native, who one day mysteriously starts receiving the Chicago Sun Times a day early. Turns out the cat (whom we like to call Merlin) who comes with the paper every day used to belong to a typesetter named Lucius Snow, seemingly Gary's predecessor. Although the paper still remains virtually unexplained, Gary and his friends Chuck (Fisher Stevens) and Merisa (Shanesia Davis) use the paper to stop disasters from happening, making the city of Chicago a better place to live.
Join the AOL EELS (Early Edition Lovers)
A Word of Appreciation
Visit My X-Files Page
Click here to be added to an e-mail update list. Please put "Update List: Early Edition" in the subject title.

Support "Early Edition"
Kyle Chandler | Fanfic,etc.
EE Bites! | Links | AOL EELS
Fontaine's Homepage

---
This page last updated 9/24/98
Virtual Kyle says you are person number here since 8/8/97.
"Early Edition" and the pictures within this page belong to CBS, Angelica Films, and Three Characters Productions. This site is for entertainment purposes only, and no infringement is intended.
---
Outdated links? Comments? Or, godforbid, spelling errors?

E-mail me!!
---



This page is dedicated to Bob Brush.
*Graphics created with Adobe Photoshop. HTML edited with BBEdit Lite.